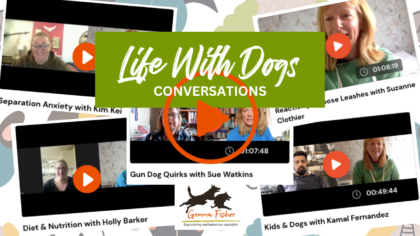 A few weeks back, a good friend of mine and fellow trainer, Gemma from Fisher Fix Dogs, asked if I'd join her for a conversation about reactivity, loose leash walking and more.
I'm so pleased that I get to share this behind the scenes conversation with you. We had quite the chat about that giant umbrella label 'reactivity', what causes it, how we can help our dogs and the intricacies of loose lead walking.
Gemma is a wonderful trainer and she has gathered together a series of these discussions with myself and other trainers in her terrific FREE series, Life with Dogs Conversations.
You'll find 5 conversations, (myself included) with:
• Holly Barker, Diet & Nutrition
• Kamal Fernandez, Kids & Dogs
• Kim Kaye, Separation Anxiety
• Sue Watkins, Gun Dog Quirks!
Here is the chance to be a fly on the wall and listen in to Dog Experts sharing their knowledge, experience and expertise.
And this is just the beginning, there are more to come – so when you've registered, you'll instantly get access to all 5 conversations and you'll be first to know about the new ones that are added over the coming weeks and months.
The conversations are available to listen to right away, no need to wait, listen as many times as you like or save them for later.
Once you've registered, a link that will take you to all the conversations will be dropped straight into your inbox for easy access.
Enjoy listening!