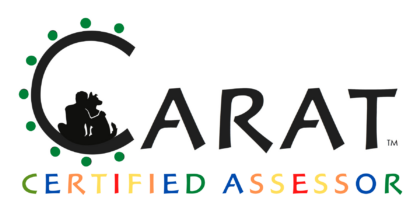 CARAT Assessments can be done by a Certified CARAT Assessor. Please be sure that anyone claiming to do CARAT assessments is on this list.
CERTIFIED CARAT ASSESSOR ARE UNIQUELY SKILLED…

CARAT Assessors are proficient at reading dog body language and are notable for their compassion and detailed approach to the individual animal.  Mastering CARAT required several years of dedication and practice. Certification serves to recognize the study and effort put forth by the certified assessor in developing their skills and to ensure that the individual demonstrates proficiency in both the theoretical and practical applications of CARAT.
Who needs a CARAT assessment? You might want an assessment for dog you already have, wish to adopt, are fostering, or to understand candidate dogs for a program or specific sport/activity, evaluate puppies in a litter, or consideration of breeding stock.
CCA (Certified CARAT Assessors) routinely use CARAT when working with behavior cases, as this detailed approach helps them understand your dog in detail. This understanding of the dog as an individual helps create training plans and choices tailored specifically to your dog.
CCAs have put a couple of years of study into learning CARAT directly from Suzanne Clothier. This powerful tool indeed "changes everything!" but the complexity that makes it so powerful also means it takes time to master. They are skilled in using the CARAT scoring system, administering the tests designed to be used with CARAT under formal conditions, as well as developing their observation skills so that informal assessments are also possible.