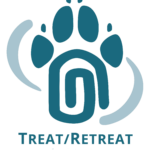 Treat/Retreat was developed by Suzanne Clothier back in the early 1990s. For 30+ years, Treat/Retreat has been helping dogs around the world. This powerfully effective technique is used to help socially shy dogs master the intricacies of feeling comfortable interacting with and being around people. Treat/Retreat about teaching the dog a skill set that promotes confidence.
Key aspects of Treat/Retreat:
Dog-centric
Force-free
Does not use negative reinforcement
This is a dog-centric technique that is force-free, and one that does not use negative reinforcement.
Respect for the dog's boundaries, arousal and abilities are combined with nuanced observation and engagement of SEEKING to help build the dog's skills. Using thin slices, Treat/Retreat helps the dog develop skills in comfortable ways that are readily generalized.

What's Involved in the Treat/Retreat program?
Treat/Retreat works through multiple layers of social interactions:
Approaching
Moving
Interactions
Groups
Postures & gestures
Humans as training equipment
Orchestrated greetings
The Treat/Retreat certification course is available any time you are ready to begin.
What Our Students Say About TREAT/RETREAT
Awesome course! I loved this course. Powerful change through easy to follow protocols! Thank you, Suzanne. ~Shanthi Steddum
Fantastic – I especially like the information that concentrates on the importance of understanding SEEKING. This is SO GOOD!  ~ Christine Fox
Positive Method This course in just the first module has proven that when we put the ownership on the learner (dog), we have a positive outcome. I've learned so much about the "seeking" mode too.  ~ Brooke Dickhart
These introduction subjects have been enlightening. I particularly enjoy the discussion topics and opportunities to get Suzanne's comments and guidance.  ~ Bobbi Burgmann
Become a Treat/Retreat Certified Instructor
Treat/Retreat Certified Instructors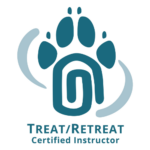 Look for the official Treat/Retreat logo!
These trainers have earned their Treat/Retreat certification. They have demonstrated their skill in taking dogs from the first moment as shy, fearful and socially awkward dogs to dogs with new social skills, right up to interacting with people as equipment. Treat/Retreat Certified Instructors have worked through an intensive course and passed hands-on demonstrations with 3 case studies as well as written exam.
Sadly, because this technique has been around for a long time, there are many trainers who have felt free to appropriate the name Treat/Retreat for themselves. While they may believe they understand Treat/Retreat, they often provide inaccurate information. You will find these misguided trainers on YouTube, Facebook, and of course on their websites, even in respected publications.
To avoid the continuation of unskilled trainers mis-applying Treat/Retreat, we created an online certification program in 2020. This is an intensive certification course designed for working professionals who wish to build their skills for working with shy, fearful and socially awkward dogs.
Select a Treat/Retreat Certified Instructor! This listing will be expanding soon as quite a few trainers in the pipeline are able to complete their case histories. The pandemic made it extremely difficult to work with clients and helpers in the way that Treat/Retreat requires. We've got trainers from at least 4 countries close to certification!