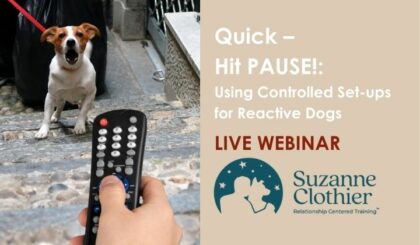 Quick – Hit PAUSE! Using Controlled Set-ups for Reactive Dogs
Handlers of reactive dogs struggle to find ways to help their dogs feel less worried, overwhelmed or pushed past their thresholds. But progress can be slow, particularly if the dog continues to be triggered despite the handler's best efforts.
As a behavior consultant, I work with many handlers who are discouraged or frustrated. In many cases, there are holes in the training plan. Inevitably, the training falls apart, the dog is triggered, the handler is embarrassed or upset. Why does this happen so often?
This webinar dives into what you need to know to help reactive dogs through carefully controlled set-ups.
Training in the wild?
Pause button or uncontrolled variables?
Understanding your dog's triggers (visual, auditory, kinesthetic, olfactory, social, chase)
The holy trinity of dog training: Distance, intensity & duration
Using Line of View and Field of View in the real world
If you've ever wished for a PAUSE button on life to help your dog, this webinar is for you. The practical information provided will help anyone create successful training moments. Find out why so many clients and their dogs have benefitted from this sensible approach to controlled setups for success.
Note: Webinars are handled through our Thinkific site. When you click to register, you will be taken to the Thinkific site.